Opening hours Christmas and New Year 2021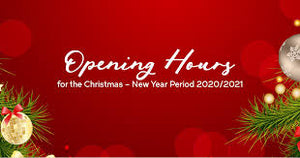 We are looking forward to seeing you at Beauty Secrets but please be aware bookings are vey limited this Christmas & they maybe hard to book online. Feel free to ring us if you can't make an online booking. phone 06 8355340.
Christmas & New Year 2021 hours
Sunday 20/12 - 9.00am to 4.00pm
Monday 21/12 - Wedneday 23/12 - late nights until 7.00pm
Christmas Eve 24 /12 Closed 3.00pm
Closed - Friday 25/12 to Monday 28/12 - reopen Tuesday 29th Dec - 9.00am Closed - Friday 01/01 to Monday 4/01 - reopen Tuesday 5th Jan -9.00am
We do look forward to seeing you very soon!  If we don't see you in the Christmas period we all hope you can have an enjoyable holiday and a happy New Year.  See you in 2021!!!
Thank you
Rachel, Dee, Brookelyn & Aaliyah
Leave a comment
Comments will be approved before showing up.